Prosthodontics
In our clinic you can use compensation of prosthodontics, covered by TERVISEKASSA!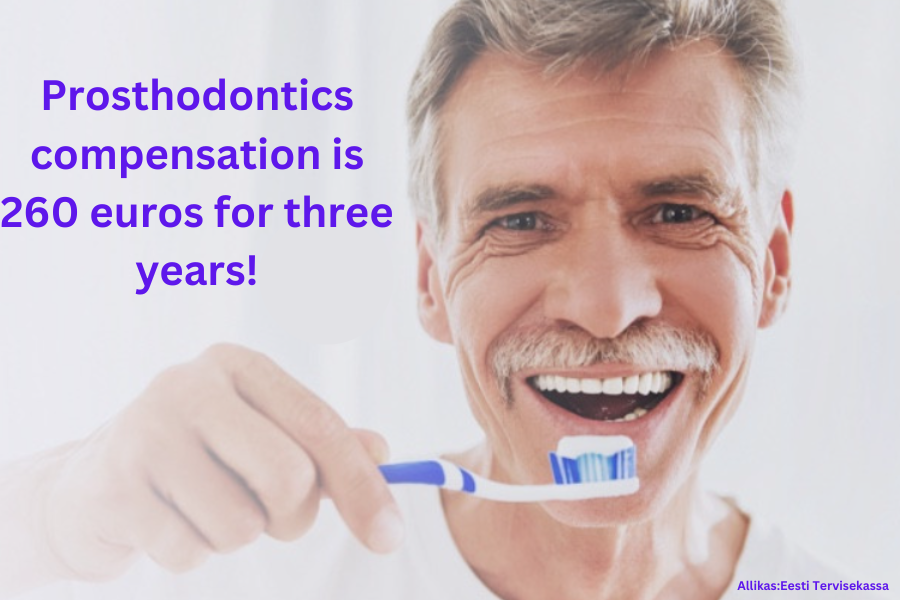 Once every three years, Tervisekassa compensates old-age and disability pensioners, health insured persons over the age of 63 and persons with partial or no ability to work for dentures in the amount of 260 euros. Denture benefit is paid up to 260 euros over a three-year period.The benefit will be taken into account at the time of payment to the dentist.
Please ask if you have this compensation possibility from your dentist.
What is prosthodontics?
When applying dentures, an entire tooth or part of the tooth is replaced using a substitute prepared in a dental laboratory. Materials and method of replacement are chosen by way of cooperation between the doctor and patient to resolve the problem in the most optimum and aesthetically pleasing way.
Prosthodontics include:
Non-Removable dentures:
Vineers.
Lumineers.
Dental crowns.
Inlays, onlays – deposits.
Dental bridges.
Implant crowns and bridges.
Removable Dentures:
Plastic prosthesis (the body of the dentures is made of plastic resembling the mucous membrane).
Bugel /cast prosthesis (the body of the dentures is made of cast metal and the parts supporting the teeth are made of plastic resembling the mucous membrane).
Combined dentures (crowns and dentures with locks)Because the oral system is a balanced unity, in order to achieve the durability of dentures, it is necessary to restore the opposing teeth and ensure an evenly distributed chewing. Subsequent hygiene and follow-up is essential. At intervals determined during the follow-up, clamps and other fixtures are checked and adjusted, if necessary the main part of the dentures is filled in with additional mass made of base material, depending on how the jawbone has developed over time.
Please find the prices of prosthodontics HERE